Hehehe, Team Fortress 2 is hilarious.
Not a bad shooter, but got boring for me pretty quickly - mainly because it's heavily team-based... and I've gone off team-based shooters. Finding a team that actually
works together
is stupid-impossible.
I always get a bunch of people who think they can win alone, or who don't actually help in capturing or defending anything. I'm cool with losing, but not having fun while losing 6 times in a row? Yeahhh.
But anyway... I can't believe I haven't posted about playing this yet (at least I don't think I have
):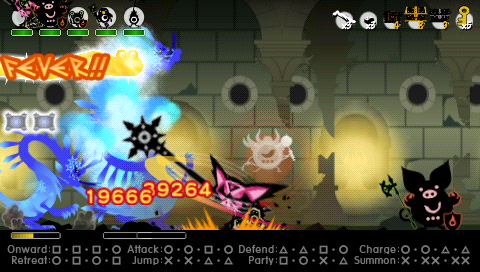 PSP games are generally pretty crap, but this is one of those rare gems - Patapon 3. I've played the previous games, too, but this
destroys
them.
It's a sort of strategy-music game, which sounds crazy, but it just... works. It also sounds and looks like a kids game. But if you just brush it aside thinking it
is
a kids game... you're just ignorant and kinda stupid - this game is
not
just for kids. It's pretty difficult, and hell, it has demons and massive ghouls with scythes in it!
And your Patapons can be pretty harsh when you mess up! "Could you do any worse?"
Basically you march your troops through the levels, giving orders by pressing combinations of buttons in time with the music. The better you do, the more intense the music gets, until you hit Fever, where your units' damage and defence increase, and the music emits WIN. You smash big enemies or structures, you get chests, which contain nifty equipment to increase the amount of smash you can deliver.
Shame it's on PSP, though - I'd quite like to have a go at some co-op quests or Bonus Bosses, but I don't know anyone who has a PSP and Patapon 3 and are within a reasonable distance of me.
Single player's still epic, though.